<!DIV7-START>
Current Conditions

Temperature: 60° F, Wind: CALM N 10°
High Gust: CALM at N/A, Avg: CALM
As of: 2:51 pm, Monday, May 29, 2017
Log
History
Announcements
SHBCC and AHSEP, an independent 501(c)(3) setup to teach sailing to all interested persons it can accommodate, are working together to launch a pilot youth and adult catamaran sailing education program this year on Hobie Waves! Stay tuned for more information. People of all ages will now be able to learn to sail catamarans in an insured program taught by certified instructors at SHBCC and we have been approached by a very diverse crowd wanting to learn how to sail.
The race page was updated on 5/11/17. The Google calendar was also updated on 5/11/17. Remember, the Google Calendar can be easily downloaded to your phone
We are continuing our experiment with sending text message reminders on Thursdays or Fridays before a club event. Expect to receive a maximum of 4 text messages per month. To subscribe to this, text SHBCC to 33222.
People who do not currently receive email updates from SHBCC can now self-subscribe to our list at the bottom of our homepage.
---
Upcoming Events
Fleet Race #2-5/28-11:30AM
This is a buoy race and all paid participants will receive laser etched 40th anniversary logo pint glasses. We are stepping up our videography game for this race. There will be a separate powerboat on the water taking video of the action. Those of you who have GoPros, please bring them, we will be happy to incorporate some on board footage into the main video.
Come on out to score some swag and be a star in the next YouTube video SHBCC produces.
(Sorry, but the lens distortion makes the glass appear uneven, the glasses really are much cooler in person)
---
Wine Up Party-5/28-6:00PM
Come celebrate the unofficial start of summer, Memorial Day Weekend at SHBCC. The menu will include steaks, clams, salads, cake, and beverages, the cover charge will be $15.
---
Around Shelter Island Race
The Southold Yacht Club is running their annual race around Shelter Island on July 8 this year. This is a race around an island at the end of Long Island, NY. Club member Jeremy Herman is hoping to get SHBCC representation at this event. If anyone is interested in taking the trip, he is thinking about renting a house for the weekend. Please contact Jeremy if interested: jeremyjherman@gmail.com. We have had members do this event in the past and it looks like a great time.
---
Here's what you missed
May 20 Beach Cleanup
The main task accomplished was replacing the floor in the cathouse. As soon as we emptied the furniture out of the cathouse, it started to rain. Thankfully, we had enough tarps to cover everything. How a bunch of sailors failed to check the weather radar before commencing the project is an interesting question. At any rate, after an hour, the rain subsided and the project was completed. All workers received food and drinks and everyone had a good time.
Thanks to all the workers: Al Dewan, Rich Graham, Rich Price, Scott Rathburn, Chris Ancona, Mike D'Achille, Peter Chostek, Charlie Capello, Tom Helstern, Gary Butler, Tom Butler, Bob Pasaniello, Joe Valinotti, Kathy Butler, Peter Fornabai, Justin LaBarca, Vic Simon
---
Madcatter Regatta, May 20-21
Near Syracuse, NY, Team SHBCC claimed first place in H16. Congratulations to club member: Mark Modderman. SHBCC member Mike Evans claimed 8th place H16 crew out of 22 and Wolfgang Kornwebel won 3rd place in the H17 class.
Full Results available here
---
Gunpowder Regatta-May 6-7
In Chase Falls, MD, Team SHBCC claimed first place in both H16 & H14. Congratulations to club members: Mark Modderman and Mike Evans in the H16 class, and Wolfgang Kornwebel in the H14 class
Full results are available here
---
Icebreaker Regatta-4/23/17
13 boats participated of all different ability levels which is an excellent turnout for a regatta in April. Four races took place including two course fives (1 lap) and two course sixes (two laps). Nearly all participants completed all races. If the diverse range of ability levels and good participation numbers becomes a trend, we can discuss bringing back B fleet, which would make the fleet races more approachable to newer racers.
Kitefest was also taking place at the same time and also had an excellent turnout.
It may have been April, but the beach was packed with over 100 attendees to both events in total. The weather was warm, and it felt like a summer weekend except for the 50 degree water. The kiters cooked burgers and dogs and shared them with our members all day. The racers were served chili after the race and received club fleeces as part of their entry fees. Everyone had a great time.
The wind started out light, but built throughout the day.
---
First Sail of the Season-4/16/17-Easter Sunday

Club member Vince Schmitt, who clearly has his priorities straight, claimed the honor of the first documented sail of the season on his brand new Nacra F16 on the evening of Easter Sunday after working on his beach spot all afternoon.
Vince accomplished this with the aid of a drysuit. Who will be the first to do so with a wetsuit? We will find out this weekend.
---
Sockburning
Our first annual sockburning took place on a blustery and cold day, but the event was a success and seemed to work because we were greeted by pleasant spring weather the next day. Thanks go out to Jeremy Herman for organizing the event. The highlight of the event was learning that our commodore actually does (or did) own socks.
---
Race Instruction
We had a great racing rules teaching session. We had a few new participants interested in getting started. Everyone who attended got served mimosas. We did a mock race on land with our new catamaran costumes on a course that used traffic cones for marks and a kayak for a committee boat.. Thanks to Bob Parangi and Tommy Butler for being the first victims of our new teaching tool. Also, special thanks to Scott Rathburn for building these and to Mark Modderman and John Sullivan for helping to teach it.
Also, I have several seasoned racers, many who have won very prestigious races, that are willing to help mentor newer racers. Please contact me: justin@usradar.com if you are interested in learning about racing.
---
Early Signup
It was the warmest early signup on record and an excellent party that went on until 3am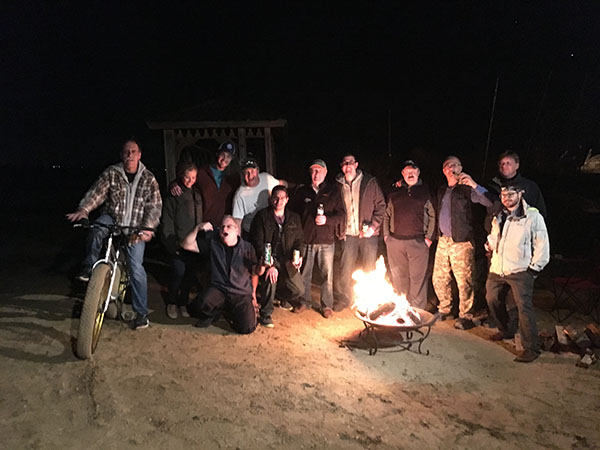 ---
Congratulations to our racers representing us on the regatta circuits. Notable achievements by SHBCC members include:
Mark Modderman and Mike Evans:
First place in the Hobie 16 class at the Gunpowder Regatta, May 7
Wolfgang Kornwebel:
First place in the Hobie 14 class at the Gunpowder Regatta, May 7
Currently ranked first place in North America for the H14 class.
Matt Keenan:
1st in A-Class at Bluster on the Bay, Jan. 13
1st in A-Class at NOOD St. Petersburg, Feb. 19
Greg Raybon:
2nd in H16 Class at Hobie Midwinters East, Apr. 9
2nd in H16 Class at Charlotte Harbor, Feb. 5
4th in H16 Class at Bluster on the Bay, Jan. 17
4th in H16 Class at Gunpowder, May 7
Currently ranked second place in North America for H16 class
---
YouTube Channel
Click Here for our YouTube channel.
Facebook Page
Click Here for our Facebook page.
Crew Finder
If you are looking for cruising crew or to be cruising crew, please contact our
Commodore.
If you are looking for racing crew or to be racing crew, please contact our
Staff Commodore