<!DIV7-START>
Current Conditions

Temperature: 52° F, Wind: CALM N 10°
High Gust: CALM at N/A, Avg: CALM
As of: 10:56 am, Saturday, Feb. 24, 2018
Log
History
Beach Map
Will be posted at 7 pm
Click Here for 2018 Beach Map
Follow Us:


---
Important Dates:
Feb 17-membership application due date
Feb 24-In person sign-up @ 8:00 AM
---
Announcements:
SHBCC is now accepting membership applications for the 2018 season. The updated membership application is now posted to the website and can be downloaded here: http://www.fleet250.org/upload/membership/application.pdf
SHBCC is sending text message reminders on Thursdays or Fridays before a club event. Expect to receive a maximum of 4 text messages per month. To subscribe to this, text SHBCC to 33222.
---
News:
2018 SHBCC Membership Applications Schedule
Mail-in application due February 17, 2018
All applications along with your check for 2018 fees and any past dues or assessments must be filled out and sent to (SHBCC):
Sandy Hook Bay Catamaran Club
PO Box 187
Atlantic Highlands, NJ 07716
These must be postmarked no later than 2/17/18. Failure to do so will put your spot up for grabs at the February 24th in person sign up.
Spots will NOT be assigned if money is owed to the club.
IN PERSON SIGN-UP
Saturday, February 24th, 2018, 8:00 AM:
Early sign-up will take place at the club for those wishing to select a different boat storage location. Spot assignments begin Saturday at 8:00 AM, sharp!
Friday, February 23rd, 2018, 7:00PM:
A beach map of locations available will be posted on the Cathouse front door on Friday night at 7:00 PM before early sign-up on Saturday. Note: last year, people started arriving at the beach around 7:00 AM in order to be at the top of the list.
The first person to arrive should start a sign in list. Those attending early sign-up must stay at the beach from the time you add your name to the list until 8:00 AM on Saturday, 2/24/2018. At 8:00 AM, the first name on the sign-up list will have the first choice of available spots, and so on to the last person on the sign-up list.
After the early sign-up, a beach map will be posted to the website and emailed. It is important that you check your assigned spot. If there are any discrepancies, and/or you wish to change your spot to another one based on availability, you should contact the Membership Secretary, Rory O'Connor.
Important Note:
We will not pull information from last year's files! Please fill out the whole application legibly or else your application will not be accepted.
Looking forward to a great 2018 season!
Rory O'Connor
Membership
rory570@gmail.com

---
Commodore's Corner
Welcome to our 41st year as the largest beach catamaran club in the country. We have a lot planned for the upcoming year and look forward to your continued participation. We have many exciting events planned for 2018. Do not forget about the early sign-up so that you may retain your spots.
We will have a budget vote meeting on the first Friday in February (Feb 2 at 8 PM) at the Cathouse. We look forward to seeing you there. As always, keeping this short and sweet. Looking forward to the early sign-up. Every day it is staying lighter a little later.
Vic Simon
Commodore
rotcivnomi@aol.com
---
Here's what you missed:
Charlotte Harbor Regatta
Port Charlotte, FL, 2/2-2/4

Team SHBCC had one boat in attendance. Greg Raybon and Nancy Kornblum placed 4th out of 13 boats in the Hobie 16 division
Full results are available here: http://www.regattanetwork.com/event/15819#_newsroom
---
Bluster on the Bay Regatta
St. Petersburg, FL, 1/13-15
3 boats from SHBCC were in attendance with Matt Keenan placing second in Foiling A-Class, John Keenan placing third in Classic A-Class and Greg Raybon and Nancy Kornblum placing third in Hobie 16.
Full results here: https://www.regattatech.com/scoring/action/showResultsRoster?clubCode=HobieFleet5&eventCode=Bluster18&divisionName=all
---
11/11 at Keyport Yacht Club
This was our annual season ending dinner. While it's sad to see another season come to a close, it's also always a great party to attend. Bob and Trudy Fraser deserve an honorable mention for having traveled the furthest. They came all the way out from Colorado. There were lots of items raffled out and giveaways so nobody went home openhanded. Trophies were awarded for accomplishments over the course of this past season.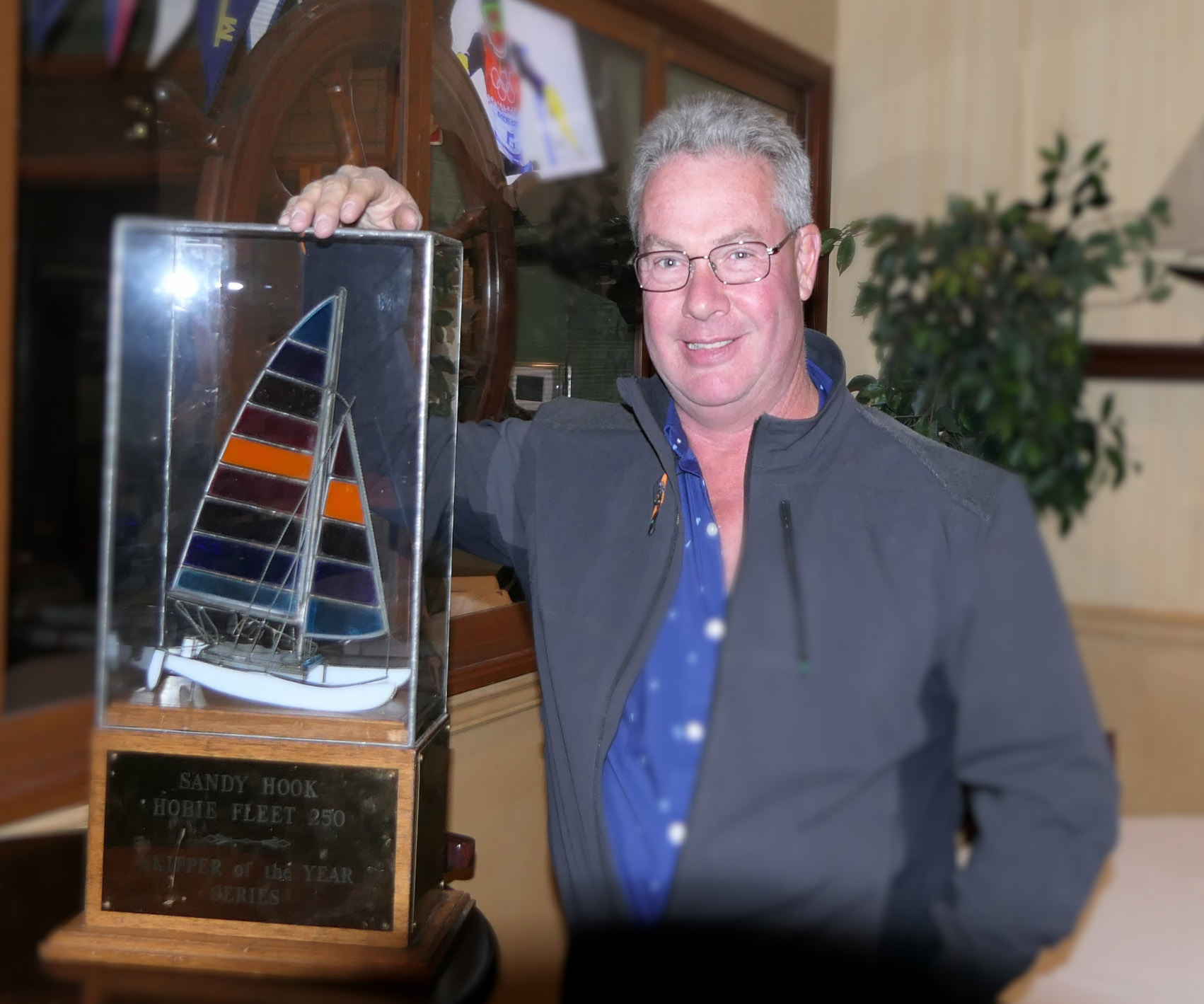 Congratulations to Scott Rathburn, who won Skipper of the Year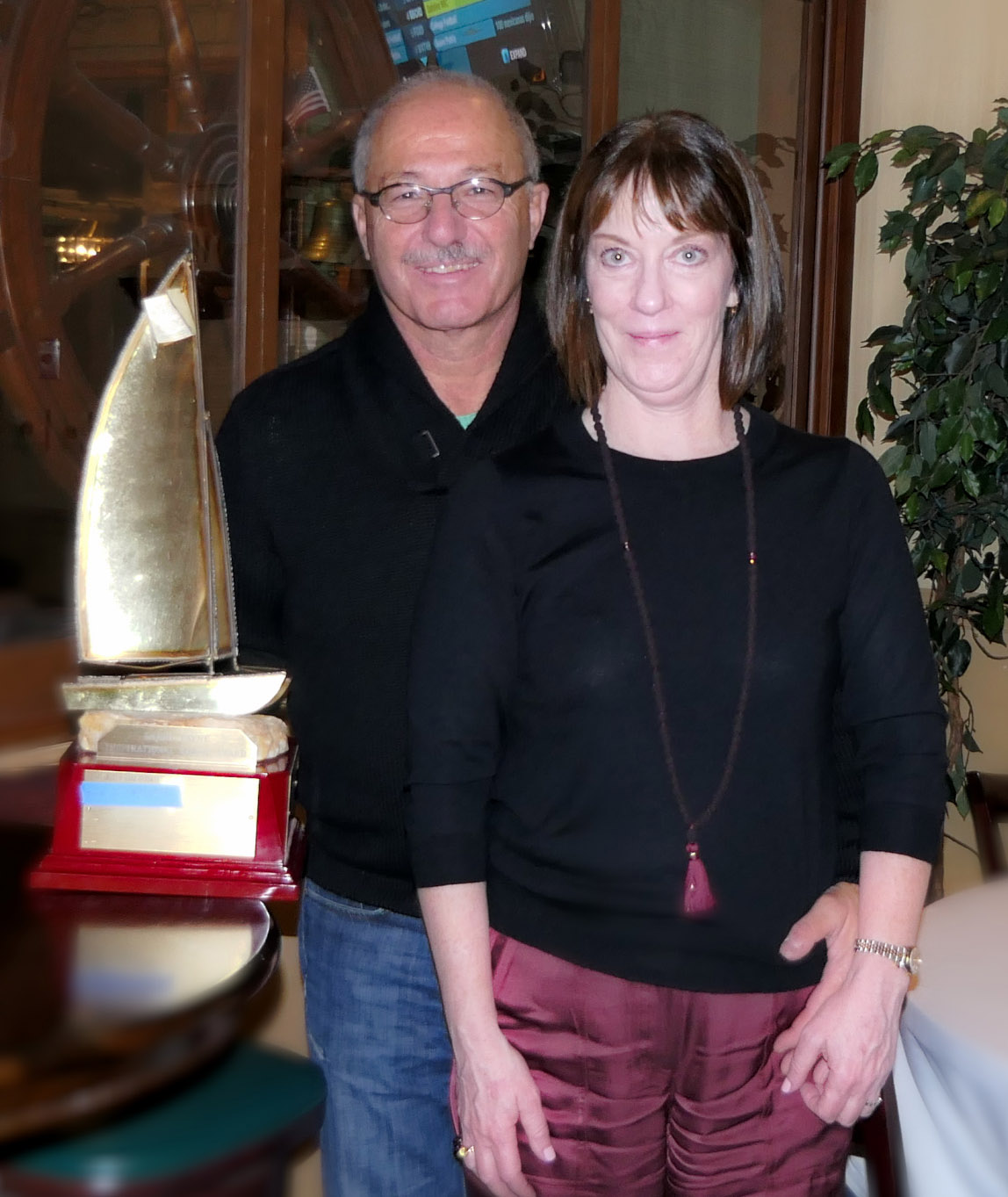 Congratulations to Marty Rosen who won the "Randy Payne Inspirational Sailor Award."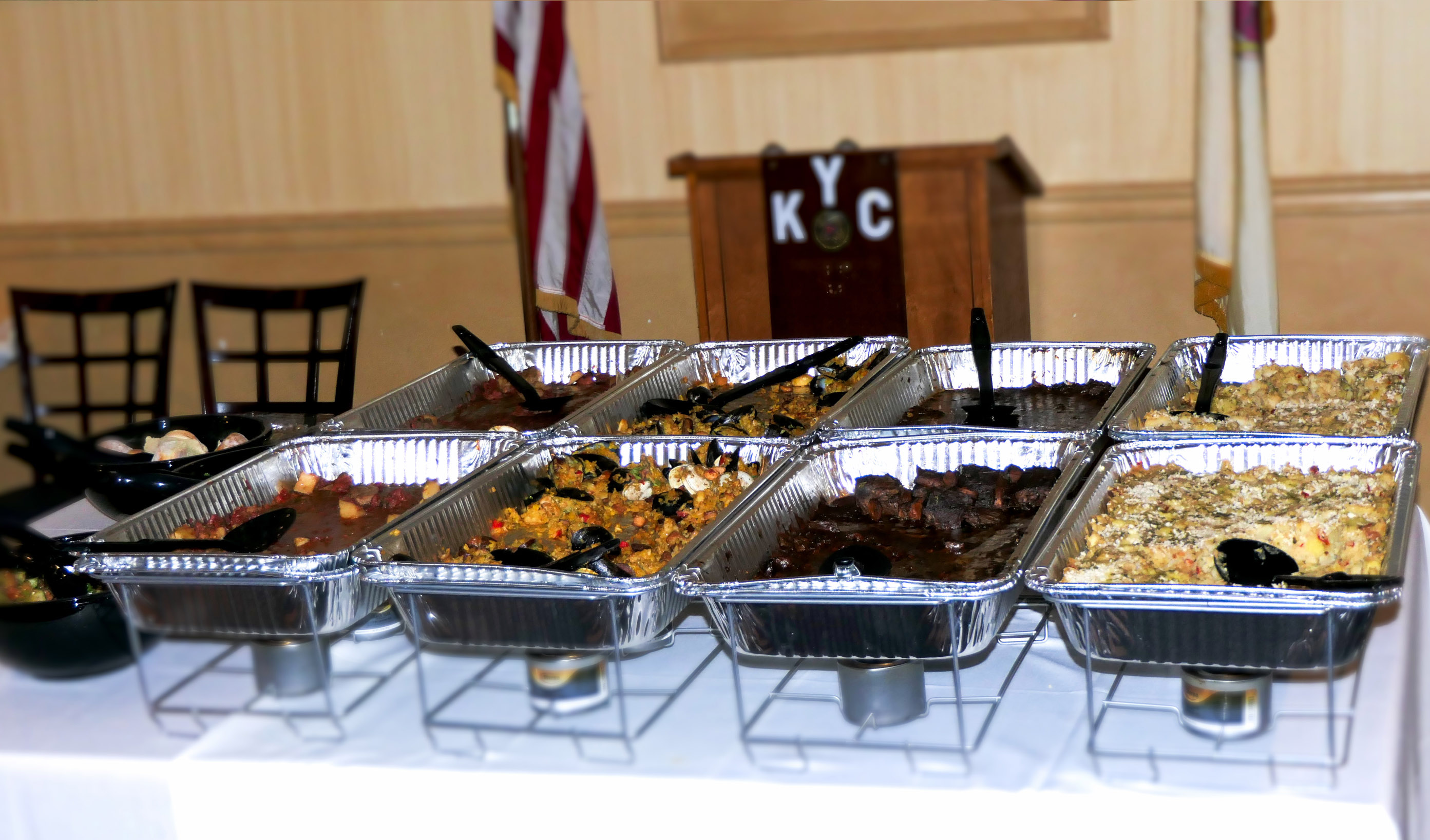 There was a Portuguese buffet, an inexpensive bar, and great water views.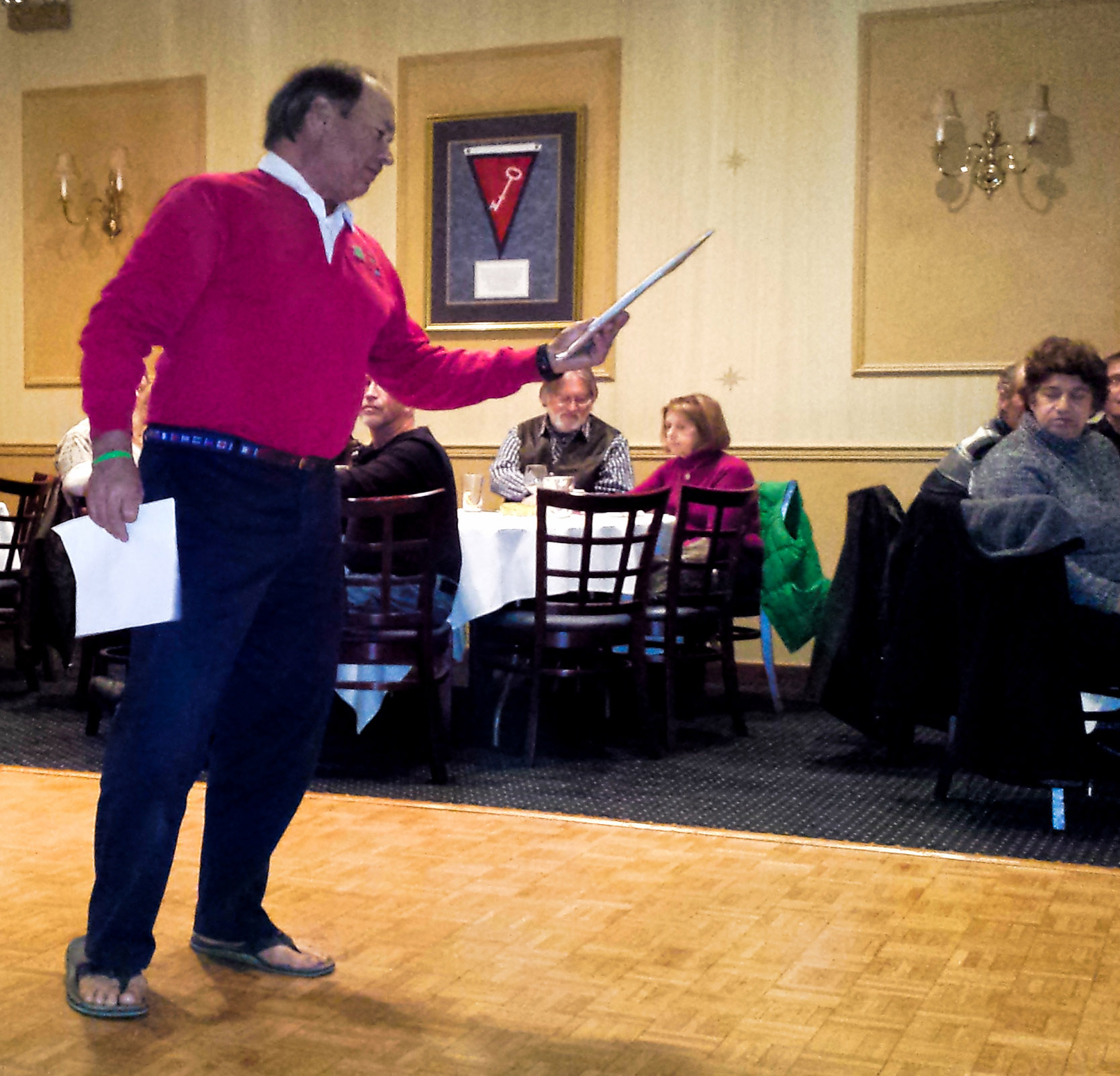 Despite temperatures hovering around freezing, our Commodore was sporting his trademark flipflops.
---
Nutsfreezer Race
October 22, SHBCC
Conditions were warm and pleasant for the second year in a row. It was very tempting to reschedule the race for colder conditions due to its name, however, turnout was great with 17 boats participating, so the show went on in ideal breezes of 10-15 knots. The course was over to Highlands, out just past the tip of the Hook, back to Highlands and then back to the beach. One member dismasted and was towed back in from near the tip of the Hook by another catamaran. This is one great aspect of participating in the club races, you are surrounded by your friends who will do their best to assist you if you run into trouble.
When everyone got back to the beach, they were greeted with burgers and dogs thanks to Bob Jopson, and after results were announced, all the participants received club logo beanie hats. For many of the participants, it was their last day on the water for the year and most people seemed to treat it more as a last group sail than a competitive race.
Full results are here: http://www.fleet250.org/cgi-bin/table.cgi?content=10.txt&dir=race&year=2017
There is a gallery with photos from the event here: https://photos.google.com/share/AF1QipMuSLVk21bJaMJljnBDaSIvI54_QHlIw2oxovSvtYUrwW28O23zbMobhfsUIQnMMQ?key=MVZQUm5ja0Q4VUszQlRJUmtMVGdsSzhMbFZYSl9R
---