<!DIV7-START>
Current Conditions

Temperature: 67° F, Wind: 15 KT ENE 67°
High Gust: 23 KT at 11:02 AM, Avg: 16.5 KT
As of: 1:08 pm, Wednesday, Sept. 28, 2016
Log
History
YouTube Channel
Click Here for our YouTube channel.
F18 Nationals
F18 Nationals are coming to SHBCC September 17 to 23! Get in on the action as a racer by registering at
http://www.regattanetwork.com/event/12397
or volunteer by contacting Rory O'Connor at rory570@gmail.com.
A training camp by Red Gear Racing will be held from Wednesday, September 14 to Saturday, September 17. There will be a free starting camp, Sunday, September 18. To register, please contact Jill at 727-734-0799 Cell: 727-793-8743 or funinthesunweb@gmail.com.
Click here for the Red Gear Racing Facebook page.
September is a great time of the year for sailing in the North East where normally strong winds and warm water make a recipe for good times. Sailors from around the country will participate in the five days of racing, one of which is a distance race to the Statue of Liberty in New York Harbor. Click on the Directions link above for directions and accommodation information.
There are 4 sailors looking to crew for the F18 Nationals. Please email Rory O'Connor at rory570@gmail.com if you are looking for crew for the F18 Nationals.
Thank you to our sponsors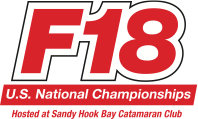 Crew Finder
If you are looking for crew or to be crew, please contact our Commodore.